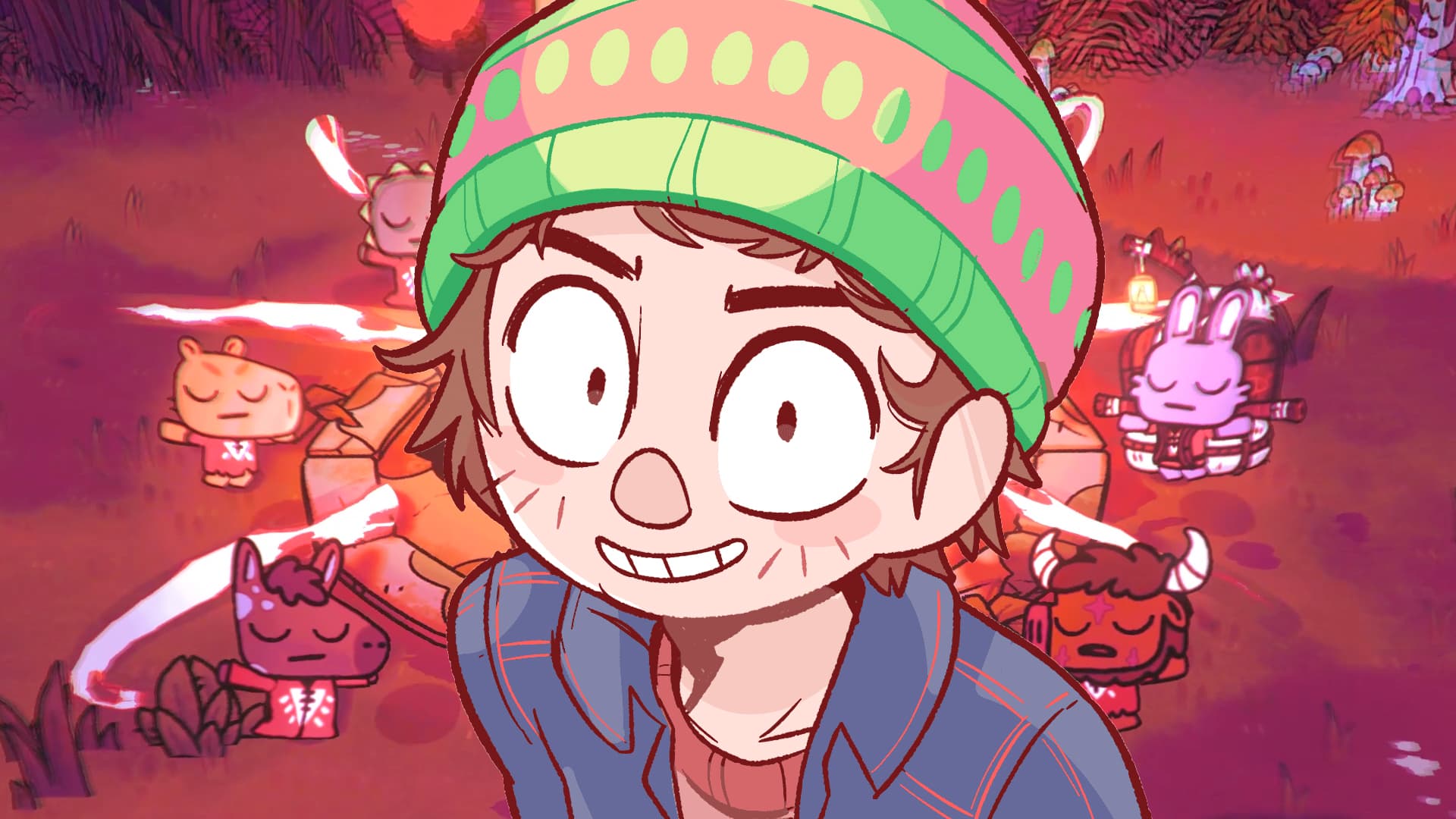 If you've played Cult of the Lamb, you've almost certainly fallen in love with its music. The genius behind this wonderfully dark, bouncy soundtrack is sonic wizard River Boy, who mixes vibey synths, chopped up vocal samples, and bassy trap beats to delicious effect. No other video game sounds like Cult of the Lamb, and the music a big part of what makes Massive Monster's devilishly cute sacrifice-'em-up so memorable. River Boy's style is very much his own, but like any musician, there are other artists that influence him. Here, in his own words, are some of the tracks that inspired his work on the game.
Clams Casino — All I need / Listen
"I adore the way Clams cuts vocals. There's a darkness to this track but it's also beautiful, haunting, and dream-like. This type of 'cloud rap' beat is a big influence on the Cult of the Lamb score."
Salem — King Night / Listen
"There's a dark biblical tone in this song I wanted to capture in the Cult of the Lamb. I wish Salem didn't go so heavy on the distortion as it makes the track a little unlistenable, but the vibe is definitely there."
Fever Ray — Concrete Walls / Listen
"Fever Ray and The Knife use vocal processing across most of their work. I credit them for influencing the manipulated vocals I use in a lot of the Cult of the Lamb's boss tracks. I also find this track's sparseness really appealing. There aren't many elements but they all work together really well."
Rob D — Clubbed to Death / Listen
"There's this sample used at 1:04 that sounds like a squeaky door hinge. I've always loved it and I use similar sounds in Saleos."
XXXTENTACION — Moonlight / Listen
"The beat is perfect imo. It hits that trappy bounce so well. Super minimal. We got an 808, harp, and drums. I love the philosophy of only having a few elements but each one being interesting and intricate."
Doseone — Lead Lords Keep / Listen
"Massive Monster suggested this track as an energy level reference for the dungeon crawling in Cult of the Lamb. Saviour takes cues from it. I initially struggled to write high energy combat tracks and I found this reference quite helpful."
Little Simz — Dead Body / Listen
"Such a dank track. Simz sounds like a witch rapping on this beat. The track is a reference for its dark feel, heavy bass, and drums."
The Knife — Colouring of Pigeons / Listen
"The way that vocals are used as instruments in this track is a big inspiration. They start in a simple rhythm but work their way into these interesting polyrhythms. Wordless and rhythmic aaahs, ooohs, and eeehs are all across the Cult of the Lamb score."
Shlomo — The End / Listen
"I'm inspired by this track's bass and degraded drums. Just dank dark trap vibes."
Sleepy Fish — For When It's Warmer / Listen
"The Cult of the Lamb base area takes inspo from this type of beat. I wanted something that adds vibe and movement without being distracting. Exactly like those YouTube 'lo-fi beats to study to' playlists."
Here's a Spotify playlist we put together of (almost) all of the above tracks, with some choice cuts from the Cult of the Lamb OST thrown in for good measure. Prefer the reassuring permanence of physical media? Why not treat yourself to the Cult of the Lamb deluxe double vinyl. Praise the Lamb!